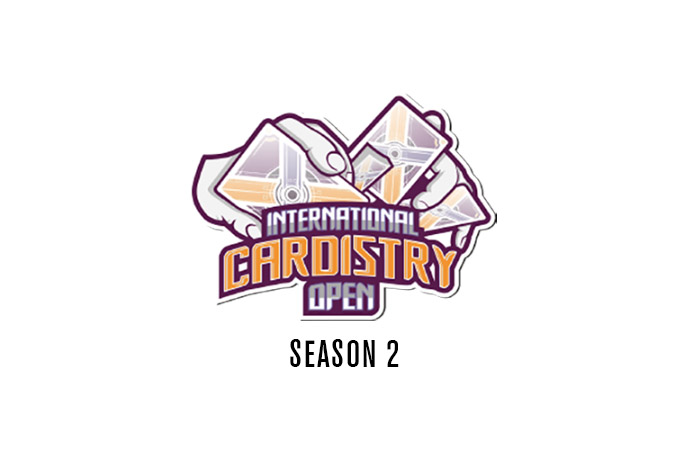 International Cardistry Open Season 2
Placed first too!
This was the second installment of the International Cardistry Competition (ICO). There were two sections, veteran and beginner, that were open to anyone; I entered the veteran's section as I had four years of experience. There were four elimination rounds, for the first three we had to make a one minute video based on a certain theme ('Window', 'Time' and 'Purple') in 10 days. The final round was a video up to three minutes long with no specific theme. Each one of them was graded based on handling, flourish originality, production quality and adherence to theme.
The theme for this video was 'window', which pretty much implied that we had to use a window in some flourishes. The only specific idea I had was to introduce myself by walking into the frame using a split screen effect. The rest more or less followed from there, as I knew which cuts I wanted to showcase and I wanted an upbeat vibe. I then chose Clap Your Hands by Parov Stelar for the music because it was appropriate thematically and 'works' for a Cardistry video. I ended up calling the video Parallel to Another Dimension in reference to the Twilight Zone episode Little Girl Lost because of how I entered and exited the frame.
The theme for this video was 'Purple'. Huh. Lots of participants were really puzzled, as we expected each theme to be a support for Cardistry in some sense, like window was. I didn't want to simply use purple cards or a purple filter like other contestants did, so I brainstormed with my family. The idea of a red-shirt blue-shirt to purple-shirt came up, so after thinking about the execution I went back to the good ol' split screen effect to have both a red-shirt version and a blue-shirt version of myself. The idea was to have both versions compete against each other. In a stunning twist, they'd both become the purple-shirt-guy, which has aspects of both characters. It was fun to shoot because I had to imagine the other character's flourish, react, then execute 'my' flourishes. I also had cuts that were either different variations of each other from one character to the other, or similar in theme. Then, the purple-shirt would show off some of the better ideas I wanted to display, which gave an overall crescendo to the video. I went with another Parov Stelar song (Libella Swing) because it had the perfect mood. My only real issue with the video is that at 0:31, the song doesn't match the visual. I didn't have enough space to shuffle edits around, so without heavily editing the audio there wasn't much I could have done. Overall, I'm happy with how this one turned out, particularly with the theme.
This time, the theme was 'Time'. I saw a couple of submissions before working on my video (due to how the submissions system was set up). They were all really serious, relating to topics from breakup to homelessness. Time is pretty deep. So I decided to contrast with the trend by making a more lighthearted, simple video. Killing time with Cardistry makes a lot of sense, so I thought of a scenario where the protagonist is waiting for a text message. It enabled me to strongly adhere to the theme, without taking away from the Cardistry. In retrospect, this video contains my favorite set of flourishes. The shoot and editing process were pretty straightforward, though this time I went with a more relaxed song by Odjbox, The Witching Hour.
The big one. No theme, up to three minutes, that leaves a lot of freedom. A this point, there are only five left in the race. I wanted to try an idea I had had for nearly a year: Cardistry in a leather jacket with a hard rock song (Black Betty by Ram Jam is what I originally had in mind), but eventually puts on a lab coat showing duality in his personality and all that jazz. I asked some friends what they thought. They liked the idea, but someone proposed that I make the entire video in one take. Cardistry videos involve edits because it's very hard to get the desired consistency whilst doing trivial flourishes. At the same time, I kept on thinking about how it would look. So I responded: "Damn, it makes too much sense not to do it in one take". So we did. Not only did I do the video in one take, but I had also planned it such that I walked through a building, took an elevator, had people in the background, etc. Any of which could ruin the take (in particular the elevator, which liked to idle on the second floor rather than the first). It ended up taking about 6 hours total of shooting, at the end of which we only had three takes: one with a solid beginning but mediocre ending, one with the opposite, and one with average all around. It was heartbreaking to go with the last one, and I still can't really watch the video today without cringing, though that's mostly because I know where to look. It did win me the competition, so it couldn't have been that bad. The jury basically pointed out that anything wrong with my video came down to the fact that it was made in one take. I chose Nightcall by Kravinsky (the theme for the move Drive) because of the mood but also because the jacket echoed the movie.
This was a really fun set of videos to make. I learned lots of technical skills, built a better workflow and learned about planning to make videos (I wrote an article about the latter for the popular Cardist blog WhoShufflesLikeThat.com). It was also really motivating from a creative perspective for Cardistry, as I needed to make sure that I had enough material for the whole season.
I also won 70 decks of cards, which is pretty nice. I'm curious to see what next year will bring, I suppose we'll see!