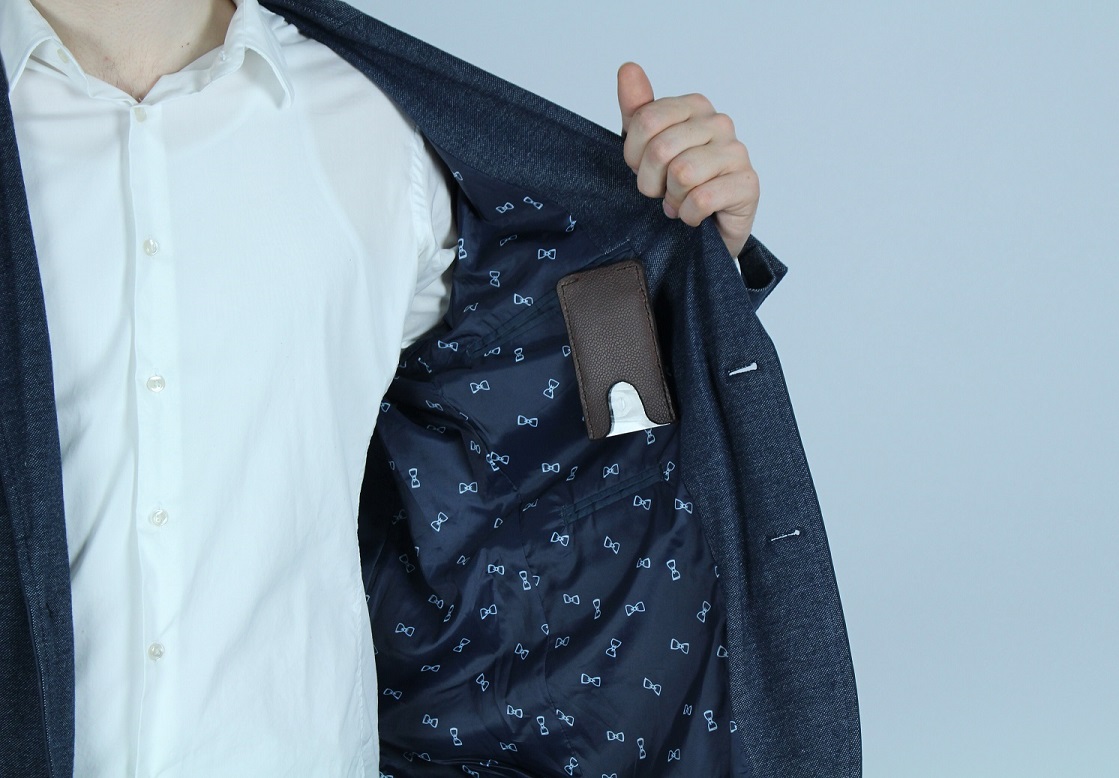 The Pitch (and Motivation)
Picture this: you are at a conference having a network-inducing conversation with a collegue in your field. In typical networking fashion, you wish to exchange business cards to add theirs to your growing collection and vice versa. You may have done this exchange many times before, and as usual you shuffle trying to find your business cards, clumsily take two or three and offer one. You flash your best smile while internally swearing you'll be more prepared next time. Well using our (currently unnamed) product, you'll be more prepared than you could ever imagine.
Introducing: our business card dispenser. Simply hook it to your inside jacket-pocket and load it with a few business cards. When the crucial time comes, all you have to do is slide your fingers down your jacket and before you know it you are presenting your network ticket more smoothely than ever.
Pitch aside, a team of four including myself worked on this product for the class at Olin appropriately called Products And Markets. The original idea was to stick our dispenser to the back of a tie, hooking it to the loop. We then realized that the inside jacket pocket would be less awkward and more gender neutral.
The main idea behind Products And Markets (the class) is to find a product market fit. To do so, we had to do some research. At first we went into Babson College to interview a few business students. On top of successfully gauging interest, we got important feedback which helped modify our product definition. After tweeking our presentation of the product, we went into Boston to talk to businesses (including Brooks Brothers and Bull and Buck) to learn about what type of accessory sells best. In particular, we learned that our product would likely best be marketed as a gift. This information made us settle on a high-end product made of aluminium and leather rather than a cheap plastic and silicone design we were also considering.
While doing our research, we made a few prototypes to gauge exactly how we wanted our product to work. We knew what the interaction should feel like, and we used different prototypes to try to achieve that goal.
So we went down to Olin's machine shop, grabbed some scrap sheet metal and used a few fabrication techniques to get something quickly. We made what you see in the image above. The idea was then to attach a card holder to the front of the plate and shove a few business cards in there.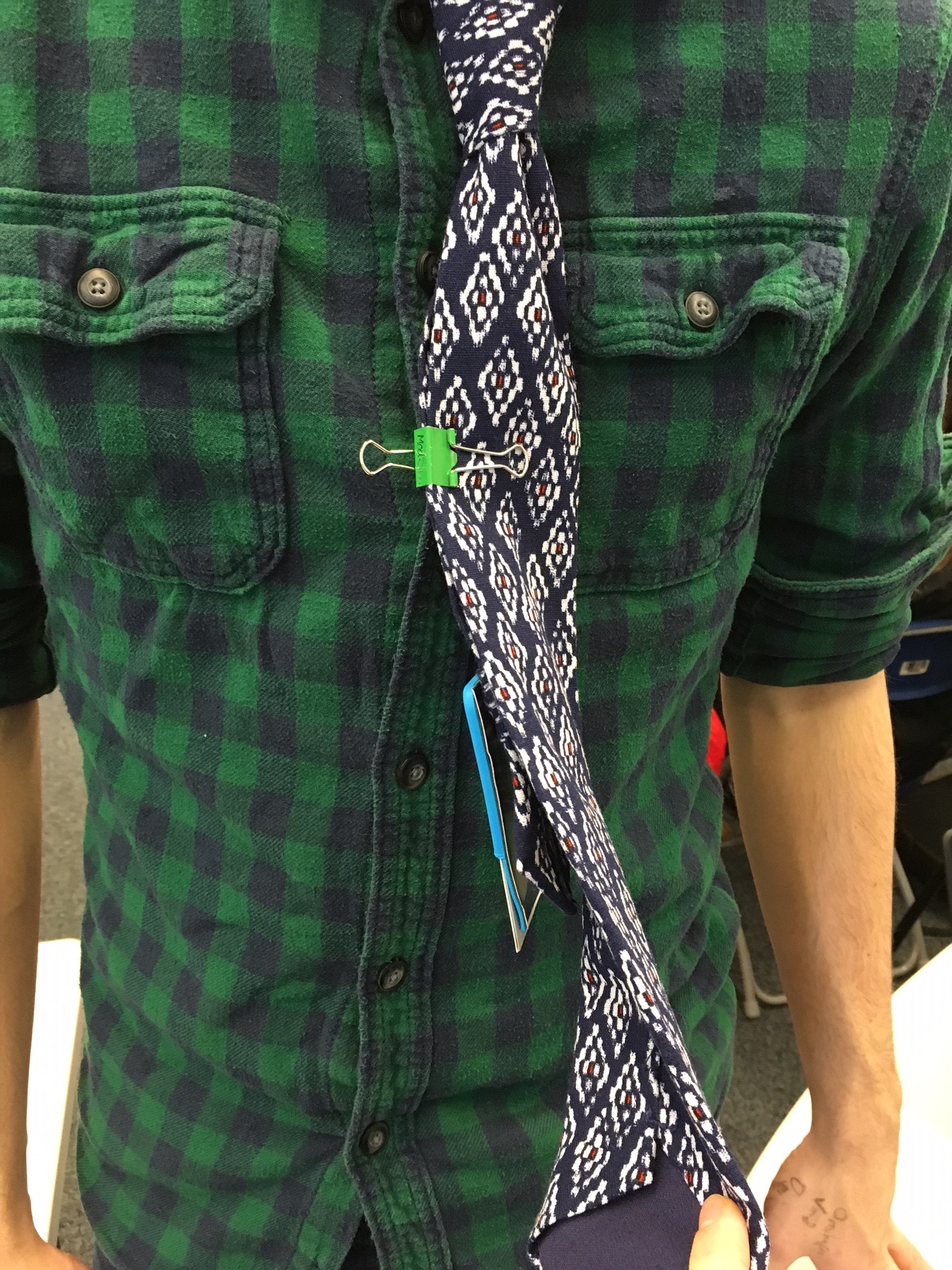 Here, the prototype is worn on the back of a tie, but it could just as easily be hooked to a jacket's inside pocket. The opening for the cards is towards the floor, but the silicone's friction holds the cards in place.

This prototype worked quite well for 6 business cards, which wasn't as much as we hoped. However, it was sufficient to show off the interaction we were trying to achieve.
The next step was to make a functional and visually appealing prototype. After a quick redesign and with the help of a local contract artisan, we made this iteration: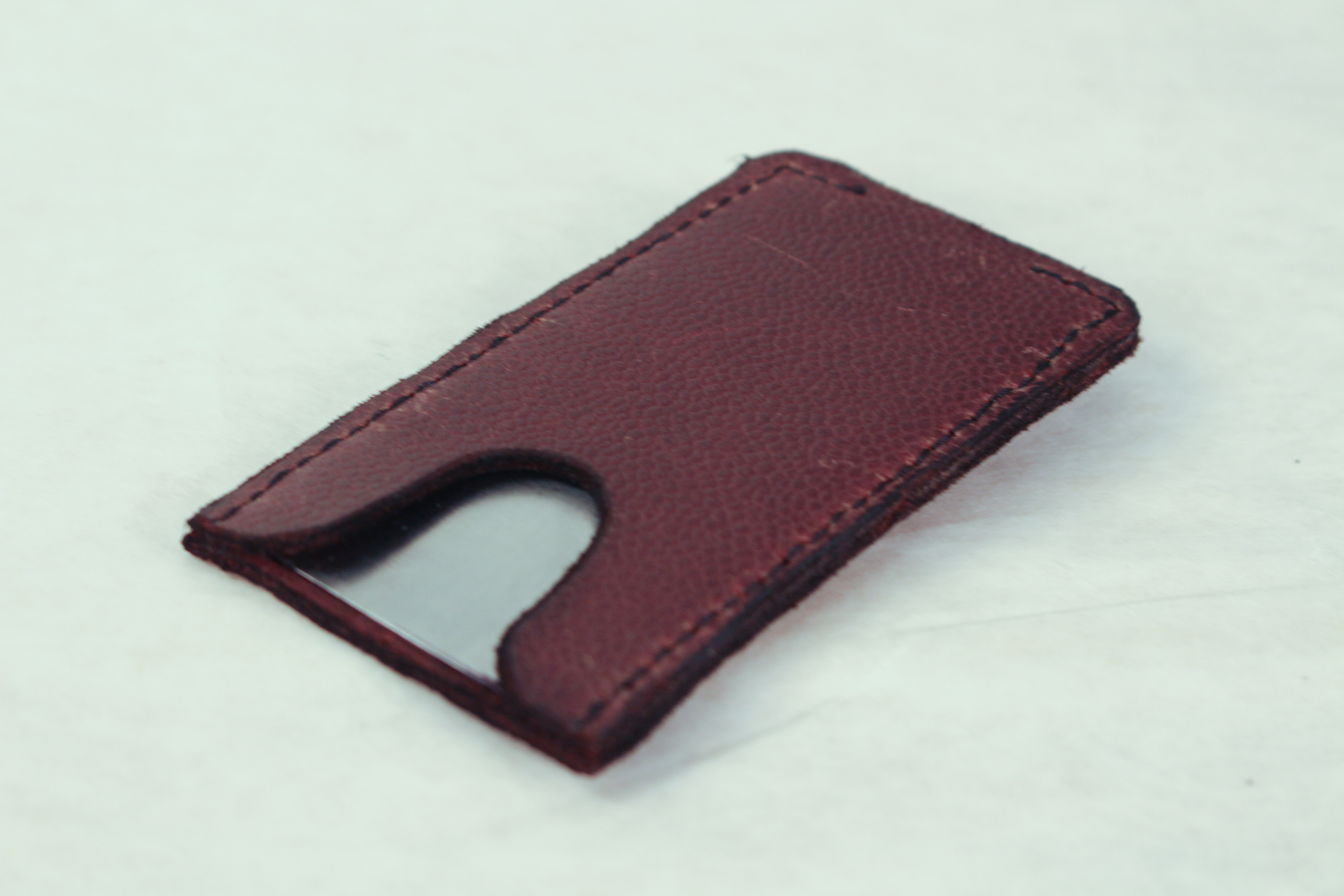 Latest iteration of the prototype. This time, the focus was on aesthetics rather than functionality. While the prototypes worked, the idea number of cards varied between 2-4 business cards, which would be too low for retail.
The classes final took the form of a sales pitch to the rest of the class. Since the main selling point revolves around how smooth an interaction the product provides. So on top of a live demo, we made a small video:
This project was quite the change of pace from what I had done in the past, particularly because the technical aspect was not the main focus. We also used an Agile-like project management workflow for the first time, which proved to be useful experience for future projects.
The main goal wasn't really to make the best product we could, but rather work through how we could decide to bring a (perhaps more interesting) product to market. So in the end, the process was a lot more important to us than actually selling the product itself, particularly given the time-frame.